Join Today, It's Simple and FREE!

As a member, you can post in our forums, upload your photos and videos, use and contribute to our downloads, create your own member page, add your ATV events, and even start your own ATV club to host your own club forum and gallery.  Registration is fast and you can even login with social network accounts to sync your profiles and content.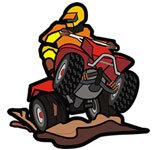 ---
Similar Forum Topics

If you are a new member, why not introduce yourself? This community thrives and grows with you and all our current members! We all want this community to grow and encourage new member registrations. That being said please help out QuadCRAZY by inviting other atv'ers to the community. QUADCRAZY NEEDS YOU!

By quadcrazy, in New Members Area!

In this video, Jonathan checks and adjusts the valves clearances on a Honda Foreman 450. On this unit, the exhaust valve had excessive clearance.   Resurgence Small Engine Inc.      

By Resurgence Small Engine Inc., in Honda ATV Forum

This video  of BMW  engines being  manufactured in China very well  illustrates where  all  the  unskilled repetitive  jobs  have gone, and  why  they're not coming  back in America  or anywhere  else.  What  BMW  has  done   in  China  is  being repeated  by every  industry  everywhere. If it  can be  automated, it will  be and except  for  a  handful of  operators the only  people  employed  by those businesses  will  be  tradesmen maintaining  the robots. Education  and trades training is  far  more important today  than it  has  ever  been.  

By davefrombc, in General Talk - Anything Goes!

Since we were kids dreaming of owning our first ATV, some of us were also dreaming up how to get that ATV up on two wheels! Doing a "wheelie" is what it's called and traditionally, it refers to the art of getting the front end of your ATV up in the air and riding on only your back wheels. We've done them with our bicycles and graduated to dirt bikes and quads at some point. Some riders have even got their ATVs up on the side, leaning to one side on two wheels, now that's a challenge in itself! Check out some of the wheelies our members have done and posted into our ATV Wheelies & On Two Wheels section in our Gallery! Here's a photo shared by @blahhhh with front wheels in the air! @sanddevil has her wheels in the air out in the sand, great shot! We mentioned it earlier, how about this duo with their ATV on the side! This cool photo was shared by @Z400Pilot. It gets even crazier with this photo posted by @ojest808! And then one of our personal favorites posted by @NY_Vmax_Joe with legs to the side and wheel up on two at Pismo Beach!   It's hard not to love looking at wheelie photos, they just look like so much fun. Just remember, always wear a helmet and protective gear when attempting to show off! Got some good ATV "Wheelie" photos? Post them in our gallery here. Check out our forum topic on "How do I pop a wheelie?" by @NinasATV
View full post

By ATVNetwork, in ATV News, Articles & Press Releases

Similar Tagged Content

Recently Browsing

0 members

No registered users viewing this page.