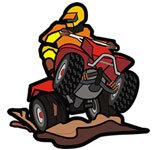 ---
Similar Content

By dahondaboy

i have been lurking here a while and i thought i would post up my build when i saw some cr500 trikes . this is a reverse trike i built using an 88 cr500 and a yamaha blaster front.
the motor is race ported by gss race porting and has a 44mm mikuni vm carb, the swingarm is extended 6" and i added a third shock up front to help in cornering stability.
eventually i will add 4' extended a arms and fox shox. this will be for cruisin camp to camp out at ther sand dunes and just for playin. due to the design it will have tons of understeer and the rear will want to flip around so it will be a drifting machine. but thats the fun part!