Join Today, It's Simple and FREE!

As a member, you can post in our forums, upload your photos and videos, use and contribute to our downloads, create your own member page, add your ATV events, and even start your own ATV club to host your own club forum and gallery.  Registration is fast and you can even login with social network accounts to sync your profiles and content.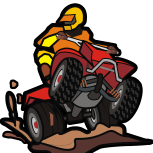 ---
Similar Forum Topics

I think i need to adj. the valves as I get some engine noise from the valve area when getting on the  throttle really good.  Lower rpm;s no noise.   Any tips/thoughts?  Also, i am relatively sure that the intake valves are the ones on the top and exh are the ones on the exhaust side...just need a dummy check as I have never worked on an engine before.

By CunningStunt, in Suzuki ATV Forum

Just bought this, I'll tell you it's almost mint. Couple issues, 1. He said he put new front shocks on but getting clunks when I hit a decent bump. 2. It's liquid cooled is regular 50/50 Prestone good?  Thanks in advance 

By BackyardTom, in Polaris ATV Forum

watch out when changing timing chain on 2005 honda 350 there are three marks on the cam gear. use the one nearest the 350 stamp. I found out the hard way.

By turp, in Honda ATV Forum

Similar Tagged Content

Recently Browsing

0 members

No registered users viewing this page.