Do you own an ATV? Join our Forum!

As a member, you can post in our forums, upload your photos and videos, use and contribute to our downloads, create your own member page, add your ATV events, and even start your own ATV club to host your own club forum and gallery.  Registration is fast and you can even login with social network accounts to sync your profiles and content.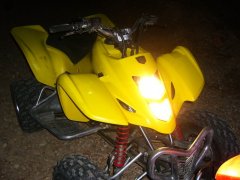 ---
Similar Topics

By Asen_77

Hi All,
My name is Asen and I am from Eastern Europe, Bulgaria. Riding a Yamaha Raptor 700R and this is my first Quad wanted for a vey long time :)

 


By Ajmboy

Got my Yamaha Grizzly buttoned up finally and went for a quick 2 hour ride in the power lines with my neighbor, who has a Yamaha Kodiak. We have access from his yard, which is nice. Was a beautiful day today to get out and will try to go more often. Ran into two other quad riders with a sportsman and I think grizzly. Also ran into a dirt bike rider. 😎




 


By Susan Makowski-DeGraw

My quad runs,  it starts up runs for about 10 minutes and then it dies if you let it sit for 10 minutes it'll start back up ride for another 10 minutes and then die again, trying to figure out why it keeps stalling
 
 


By Gary Skriba

just got a 99 Kawasaki bayou replace the coil because the spark was very weak still have the same issue before it would start after a while that it would start everyday as long as you started it every day but if you let it set you play hell starting it looking for information on what could possibly be wrong maybe the CDI box not sure any help would greatly be appreciated thank you


Recently Browsing

0 members

No registered users viewing this page.