Do you own an ATV? Join our Forum!

As a member, you can post in our forums, upload your photos and videos, use and contribute to our downloads, create your own member page, add your ATV events, and even start your own ATV club to host your own club forum and gallery.  Registration is fast and you can even login with social network accounts to sync your profiles and content.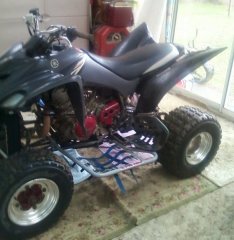 ---
Similar Topics

By JacobSlabach

First of all sorry I have been MIA here for a while, been busy with school and work.  I'll try and reply on some other threads asap, but posting this one because I just picked up a 2017 sportsman 570 before the new year and popped a boot on it going through a mud hole.  The former owner had aftermarket axles on it to accommodate the 4in lift and idk what brand they are but they're skinny as heck and idk what boot to buy to rebuild with?  It's the rear right lower boot (under the brake calp.).  I'll post some pics when I can and sorry again I've missed yall on the forum!


By amharrison24

i have a 91 moto 4 100. has electric start only. for as long as i could remember we have always pushed start it. after riding for while you shut it off. you are able to hit the start button and it will start right up. anyone know where i should start with fixing this issue? im fixing it up for my niece. thank you in advance.


By Steven Urban

First time using this forum.  Owned a Kawasaki dirt bike once, had no issues.  But I picked up this 4 wheeler at an auction.  They stated it ran, but only needed a battery.  Well I do not believe that was all true.

Some pictures are attached.  Not sure why, but the whole air filter stuff was removed.  They had some small thing inserted as a make shift air filter.

I purchased a battery to try this all out.  Waiting to return it and get the proper size, as it was too big for the battery box.  But here is my issue I had while the battery was connected.

1 - The lights on the steering column did not come on.  Not sure if they work or not.

2 - The starter solenoid seems to be bad.  I have a new one on order. 

3 - In the pick, there is another rusted part.  Not sure what that part is or what it is used for.

4 - What is the 12v rectifier?  square bodied part.

So when I hooked the battery up.  Pushing the start button did nothing.  Pulling the cord to try and pull start, it turned, but would never fire.  I have put in a new spark plug as well, it looked worn out.  With electric start, I crossed over the posts on the start solenoid, it turned over, but would never fire and start.

I have read a few other threads and it stated something about needed the neutral light on.  SOmething about a kill switch.

Any help would be appreciated.





By Chase Cook

Hi I just got an Polaris sportsman 500 4x4 ATV the other day. I got it real cheap but I started to go into it because it didn't have compression so I bought a new piston and ring kit for it and installed it, but now when I try to start it all it does is shoot fire out the exhaust or the intake of the carburetor. And a timing is top dead center.;I think I can't really tell another way if it is or not. when I put it together I made sure to piston was on top and the cam lobes where facing down where are the cam sprocket is facing up. It has gas and spark. It did start a couple minutes ago but it didn't stay running and now it won't start. Do you think the valve need to be adjusted more to close better?I'm fixing to try that out and if that don't work what is the problem? Also I made sure everything was together good and right and change the oil and changed out the radiator fluid.


Similar Tagged Content

By Michael Aiken

Where can I find a wiring diagram for my 2005 450 Kodiak. Thanks.


By Mo Salem

So my front hub broke, I'd like to put aftermarket on. Hard to find new oe ones. Please help. I'm new to all of this, I have some car knowledge and try to apply it


By LMI

Was using the quad the other day to shuttle wood from my pickup to my wood pile.  When the job was done I turned off the Quad and heard a bit of a racket from the front end.  When I got down underneath the sound seemed to be coming from the fan housing.  fan was moving in spurts and not quickly... much like a computer case fan that's had it's day.  What I know.
Temp sensor is ok, as the fan tries to activate fan is getting some voltage as it is attempting to spin.  When I first bought it used I tested the fan direct to battery and it was fine. The fan was working ok even not direct wired as I went on a couple of rides and when stopped and idling the fan did run Seems to be free spinning with my finger read up in the manual and they require me to drop the rad.  now I'm not opposed to that as the rad has some damaged areas I want to try and straighten out.  But if I can get the fan working without, I can leave the rad as it is until next year.
Fan assembly is about 300 bills, any work arounds or alternatives?  I even thought large computer case brushless fan.  smaller ones are about $7 larger ones better quality probably far below the 300.  They run standard 12v DC.
Anything I should be doing before dropping the rad... other than check for obstructions even though it seems to spin, and trying to hardwire it to the battery again for a test to see if it acts the same?


By Guest Fox300exchic

The Hop-Up: You may be saying to yourself, "that's a chick bike," and you're right. But honestly, it's so much more than that. It's one badass bike. http://www.quadmagazine.com/quad/features/article/0,24942,1587044,00.html


Recently Browsing

0 members

No registered users viewing this page.