Do you own an ATV? Join our Forum!

As a member, you can post in our forums, upload your photos and videos, use and contribute to our downloads, create your own member page, add your ATV events, and even start your own ATV club to host your own club forum and gallery.  Registration is fast and you can even login with social network accounts to sync your profiles and content.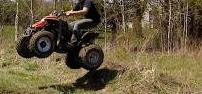 ---
Similar Topics

By wwdubose

I have two 2003 Suzuki Ozark 250s, both 2-wheel drive.  Last time we rode them about a year ago, the red one was not running well, didn't want to idle, backfired a lot.  The green one ran fine. 
Fast forward...I ordered a carb kit for both of them, thinking the red one has some trash in a jet.  Both of these ATVs have had little use and I've always ran the gas out after use (put an inline cutoff valve in gas line).  I pull started the red one to verify it was still running bad.  It will start and idle, but as soon as you give it any throttle, it dies instantly.  Give it a little choke, dies instantly.  Took the carb apart and it was spotless.  Went ahead and cleaned all the holes with carb cleaner and blew everything out with compressed air.  All new jets, main jet holder, and needles.  Put it back on and nothing changed.  Starts, idles (not for a long time), but dies as soon as you give it gas.  Same happens when you put the choke on.  It does the same thing when I try to run it turned to prime on the petcock as it does in the on position.
Not an air filter issue.  It is clean and it does the same exact thing with no filter on it.
Thought maybe there was a float issue or maybe a damaged diaphragm, so I took the carb off the green Ozark and put it on red.  Started up and initially ran normal and revved for about 10 seconds and then started doing the same exact thing.  Starts, idles (not for a long time), but dies as soon as you give it gas.  Same happens when you put the choke on. 
So...not the carb
Thought maybe vacuum petcock was bad, but there's no gas in the vacuum line going from petcock to carb and gas flows freely when on prime.  I even plugged the vacuum line at both the petcock and carb end and tried to run it with valve set to prime.  Gas flows freely, but does exactly the same thing.  I unscrewed the screw at the bottom of the bowl and gas flows thru carb and out bowl drain line when petcock is set to prime.
So, I'm assuming petcock is good?
Checked spark plug and it wasn't fouled.  Reset gap, didn't help.  Will swap plugs between Ozarks tomorrow but I don't think that is it.
Anyway, that he history and now you're all caught up.  Scratching my head.  Valves? These were bought at same time and have had little use.  Suggestions?
Thanks!   


By dook

I've been riding Suzuki Kingquad 300's for the last 20 years. I have 3 of them. I love the low gearing, low center of gravity, low rider position, low racks shaft drive and smooth ride, but they are getting old and I'm tired of fixing them. Best engineering of any utility quad, IMO, but the execution...build quality is not up to par with Honda, so the price you pay is lots of wrenching.
I positively despise CVT type belt drives. My neighbor has a couple of old Hondas, Rancher and Rubicon and I admire the reliability of them. He does very little maintenance and they always run and have pulled my Kingquads home for me when they break.
Is Honda the only company that makes ATV's that don't have CVT? I like the build quality but I don't like the high rider position caused by the vertical cylinder, the cold nature of them, having to warm up for several minutes and the plastic skid plates. I guess all modern ATV's have the same issues, though (correct me if I'm wrong).
Been checking with the dealers, it seems Honda foot shift models are scarce. I really don't need devices/gadgets to decide which gear I need to be in. So I'm avoiding the DCT models. I must have IRS and EPS because of my age and physical condition though.
Is it possible to get a Rancher with IRS, EPS and foot shift? The specs I'm reading show the rancher is 2" lower than the Rubicon. I'm assuming that to be seat height. With vertical cylinder design, the more you grow the engine, the higher you push the seat....at least that's my thinking.
Any comments from the Honda experienced?


By Michael Rogers

Well this is my first time tearing down an ATV. Have done a little work on 2 stroke's in the past, but not much. I'm needing some help. I've got a Bayou that has lost compression. I tested it, and it was like at 40psi. I had already set the timing on it, and it does have spark fuel, etc...
My question is about the cylinder. To me it looks pretty toasted, but need some help in determining. It is a 2000 Kawasaki Bayou 220. I bought it not running, just to see if I can get it running so it has not ran since I bought it. This question is about the cylinder, and part 2 I have will be about the CAM.
Any advice / help is greatly appreciated.
Inside sleeve a line(left line) runs the length that I can feel with my fingernail. The line on the right I can't feel.

 
Some rust it looks like on these two pictures.
 

Thanks!


By Ryan Hutton

Hey guys i am new to this site. i have a quadmaster 500 and last year my brother in law had it out and brought it back. When we went to put it away it wont move now any suggestions i have the belt cover off now. With it jacked up it seem to take gear when its not running.


Similar Tagged Content

Recently Browsing

0 members

No registered users viewing this page.