Do you own an ATV? Join our Forum!

As a member, you can post in our forums, upload your photos and videos, use and contribute to our downloads, create your own member page, add your ATV events, and even start your own ATV club to host your own club forum and gallery.  Registration is fast and you can even login with social network accounts to sync your profiles and content.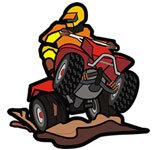 2011 Can-Am RSS SM5 SPYDER (Port Orange, FL)
---
Similar Topics

By bodon

Anyone know what the fuse terminal marked UNSWITCH  does  .  Even with the key off it is causing a drain on my battery and I'm trying to figure out  what that terminal goes to.  It's a 10 amp fuse. If I pull it the "short" goes away.  Thanks in advance.


By quadcrazy

If you are a new member, why not introduce yourself? This community thrives and grows with you and all our current members! We all want this community to grow and encourage new member registrations. That being said please help out QuadCRAZY by inviting other atv'ers to the community.
QUADCRAZY NEEDS YOU!


By Susan Makowski-DeGraw

My quad runs,  it starts up runs for about 10 minutes and then it dies if you let it sit for 10 minutes it'll start back up ride for another 10 minutes and then die again, trying to figure out why it keeps stalling
 
 


By Panupong Pradchaphet

I have a 2018 Sportsman 450 HO.  I use it primarily for hunting and riding in the mountains of WV.  I am really interested in the Hatfield and McCoy trail system in WV.  Does anyone have a recommendation for a beginner to intermediate trail to explore?


Recently Browsing

0 members

No registered users viewing this page.