Join Today, It's Simple and FREE!

As a member, you can post in our forums, upload your photos and videos, use and contribute to our downloads, create your own member page, add your ATV events, and even start your own ATV club to host your own club forum and gallery.  Registration is fast and you can even login with social network accounts to sync your profiles and content.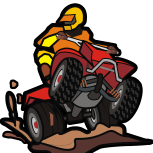 ---
Similar Forum Topics

Here's what just came out of the old '11 700 Grizz... The pics indicate some kind of build up on 3 surfaces...the base ring, and on both the electrode and ceramic opposite where the strap attaches. What condition does this suggest? Also, this article... How to read Racing Spark Plugs - Dragstuff indicates since there's no color change in the middle of the ground strap that there's some type of temp problem. Or does this not apply as the article is talking about racing spark plugs? Thanks

By bradleyheathhays, in Yamaha ATV Forum

Similar Tagged Content

Recently Browsing

0 members

No registered users viewing this page.