Join Today, It's Simple and FREE!

As a member, you can post in our forums, upload your photos and videos, use and contribute to our downloads, create your own member page, add your ATV events, and even start your own ATV club to host your own club forum and gallery.  Registration is fast and you can even login with social network accounts to sync your profiles and content.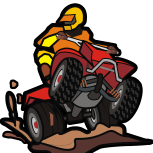 ---
Similar Forum Topics

In this video, Jonathan checks and adjusts the valves clearances on a Honda Foreman 450. On this unit, the exhaust valve had excessive clearance.   Resurgence Small Engine Inc.      

By Resurgence Small Engine Inc., in Honda ATV Forum

This video  of BMW  engines being  manufactured in China very well  illustrates where  all  the  unskilled repetitive  jobs  have gone, and  why  they're not coming  back in America  or anywhere  else.  What  BMW  has  done   in  China  is  being repeated  by every  industry  everywhere. If it  can be  automated, it will  be and except  for  a  handful of  operators the only  people  employed  by those businesses  will  be  tradesmen maintaining  the robots. Education  and trades training is  far  more important today  than it  has  ever  been.  

By davefrombc, in General Talk - Anything Goes!

I finally found an awsome app for your phone that shows you on a map all the trails near your location. You can read or add reviews, look at picts...etc Its called: atv escape John

By Johnnyhorsepower, in Where To Ride Your ATV

Similar Tagged Content

Recently Browsing

0 members

No registered users viewing this page.