Join Today, It's Simple and FREE!

As a member, you can post in our forums, upload your photos and videos, use and contribute to our downloads, create your own member page, add your ATV events, and even start your own ATV club to host your own club forum and gallery.  Registration is fast and you can even login with social network accounts to sync your profiles and content.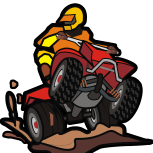 ---
Similar Topics

Similar Tagged Content

By Jeff Andersan

1988 lt230 Suzuki
Having problem with getting into neutral have to do it by hand to get into reverse keeps skipping into 2nd is there a adjustment I can do I'm new to this 


By jim estes

Aquired a Quadrunner 240 about a year and half ago.The man said he knew nothing of it history just took it a s an add on in a trade he had made, It looked good-early/mid 90's all the plastic in good shape with no obvious oil stains, dents, etc, now have time to check it a little cl;oser...any suggestions as to what to look for? Aside from metal shavings, checking fluids etc? Whats good to see? Bad? Thank ahead
 


By Admin

1985-90 Suzuki Quadrunner LT230GE, LT-F230G, LT230S Service Manual


Recently Browsing

0 members

No registered users viewing this page.