Do you own an ATV? Join our Forum!

As a member, you can post in our forums, upload your photos and videos, use and contribute to our downloads, create your own member page, add your ATV events, and even start your own ATV club to host your own club forum and gallery.  Registration is fast and you can even login with social network accounts to sync your profiles and content.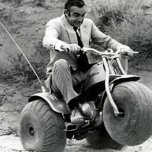 ---
Similar Topics

By Trent Finnessey

So I'm 14 years old right now..... I'm a pretty good rider for my age, I have a 98' 300ex that I'm tryna sell. I'm thinking of a 400ex or should I skip the 400 and just go to a 450r or something along those lines? 


By Ed Zeppeli

Hi,
Oddly I'm having  a hard time ordering front brake shoes for my '98. 
I'd appreciate recommendations on decent, widely available shoes if possible. Ideally available in Canada on short notice.
 
Thanks much,
 
Warren


By Brenden

Hi, I just bought a used 1990 warrior and the rear is sagging low like it has a lowering kit but I'm not sure, does anyone know what it could be?





By Rich1028

Gladwin Quad Trails North Loop 4-18-20 Part One

Was another great day for Riding Quads!
Yes we Rode both Leota and Gladwin Quad Trails the same day!!
See You On The Trails!
 
 


Recently Browsing

0 members

No registered users viewing this page.