Do you own an ATV? Join our Forum!

As a member, you can post in our forums, upload your photos and videos, use and contribute to our downloads, create your own member page, add your ATV events, and even start your own ATV club to host your own club forum and gallery.  Registration is fast and you can even login with social network accounts to sync your profiles and content.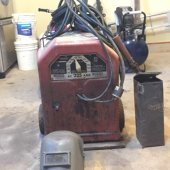 ---
Similar Topics

By stymy68

Hello All,
I have multiple Yamaha Timberwolfs, and I'm rebuilding a 92. I would like to replace the Ball Joints on the control arms. Does anyone know where I can purchase them? I don't want to purchase entire control arm. Ebay only has upper ball joints (Funny I don't see Upper Ball Joints, I have struts) and Cheap Cycle Parts, Partzilla and others don't even show the part number for the lower ball joint. There has to be something out there, these are just pressed in ball joints with castle nut and cotter pin.
Please help cross reference. I have another Timberwolf I want to rebuild.


By Tom Pavlak

Hi Everyone - Need some help.
Got a nice little 220...clean machine. wiring is a mess. I have a diagram however, the one I have has 4 wires coming from the ignition switch not 2 like mine. So, I cant trace wires properly.
There is a white one that runs to the Solenoid, and a brown wire...from the Ignition...I dont know where its supposed to go. Also, on the Solenoid, there are 3 wires..W to ignition, B to start relay and B/Y runs up to the front of the machine...and is not plugged into anything...and there isnt a "Mate" missing it. How do they plug into the 4 open shovels by the 20A fuse?
I'm pretty sure my Lights and start switch/Lights are correct.
Problem I cant get anything...new battery...cant get the start button to work, cant get any power to the lights or switches...so I know something is not grounded or..
Any advice would be greatly appreciated.
Tom


By Asen_77

Hi All,
My name is Asen and I am from Eastern Europe, Bulgaria. Riding a Yamaha Raptor 700R and this is my first Quad wanted for a vey long time :)

 


By Chris2018

Does anyone have the cdi box wiring? I'm trying to hook up aftermarket cdinbox and i keep confusing myself with the trigger signal wire trigger ground wire and 12v. Any help would be appreciated thank you for your input 


Recently Browsing

0 members

No registered users viewing this page.