Join Today, It's Simple and FREE!

As a member, you can post in our forums, upload your photos and videos, use and contribute to our downloads, create your own member page, add your ATV events, and even start your own ATV club to host your own club forum and gallery.  Registration is fast and you can even login with social network accounts to sync your profiles and content.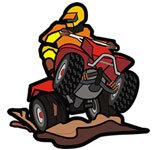 Quad Back Flip Goes Wrong
---
Similar Forum Topics

If you are a new member, why not introduce yourself? This community thrives and grows with you and all our current members! We all want this community to grow and encourage new member registrations. That being said please help out QuadCRAZY by inviting other atv'ers to the community. QUADCRAZY NEEDS YOU!

By quadcrazy, in New Members Area!

In this video, Jonathan checks and adjusts the valves clearances on a Honda Foreman 450. On this unit, the exhaust valve had excessive clearance.   Resurgence Small Engine Inc.      

By Resurgence Small Engine Inc., in Honda ATV Forum

This video  of BMW  engines being  manufactured in China very well  illustrates where  all  the  unskilled repetitive  jobs  have gone, and  why  they're not coming  back in America  or anywhere  else.  What  BMW  has  done   in  China  is  being repeated  by every  industry  everywhere. If it  can be  automated, it will  be and except  for  a  handful of  operators the only  people  employed  by those businesses  will  be  tradesmen maintaining  the robots. Education  and trades training is  far  more important today  than it  has  ever  been.  

By davefrombc, in General Talk - Anything Goes!

Similar Tagged Content

By Guest Fox300exchic

The Hop-Up: You may be saying to yourself, "that's a chick bike," and you're right. But honestly, it's so much more than that. It's one badass bike. http://www.quadmagazine.com/quad/features/article/0,24942,1587044,00.html


By skgw1

Feul pump went out. Replaced. At times quad cuts out like its not getting gas. Saw article on new pump needs to be calibrated. Told how to go into a service mode. Does not tell how to calibrate after going into mode. Can anyone shed light on this procedure.


Recently Browsing

0 members

No registered users viewing this page.