Join Today, It's Simple and FREE!

As a member, you can post in our forums, upload your photos and videos, use and contribute to our downloads, create your own member page, add your ATV events, and even start your own ATV club to host your own club forum and gallery.  Registration is fast and you can even login with social network accounts to sync your profiles and content.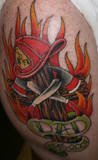 ---
Similar Topics

Similar Tagged Content

By BeardedBackWoods

Bought a 01 bear tracker and a trailer from a local guy last week. I rebuilt the carb 2 days ago and ran damn near perfect for 2 hours. Parked it and came back the next day. It suddenly won't hold an idle at all and pops when I'm going downhill or at a slow speed. Almost like I'm dragging the whole power train with the weight of the ATV. It still has decent power (80-90% maybe as it is now) but I can't figure out why it's popping and won't hold an idle suddenly. even with messing with the idle screw next to the bowl on the exterior of the carb. No changes. . ANY ideas would be great. I'm far from a carb king, but I've never had this issue before. The fuel was bought 2 days ago and it has a brand new intake manifold as of yesterday when I rebuilt the carb (whole rebuild kit). I sprayed around the carb and did not find any leaks. 
 
 Thanks y'all. 


By Senator

I've seen a few good ideas around about how to HELP prevent a trailer from getting stolen
but when it comes to security, too much is never enough. I figured we could all benefit by learning from one another what measures are in place elsewhere so jump in any time to contribute your idea. Here are few I'm aware of
Tongue lock
Wheel locks
Take the wheels off
Chain it to something stationary
Motion lights
Video surveillance signs posted
Booby traps
GPS tracking device


By kfx450r

Need to write a script..for a story..5-10 minutes..i cant think of anything..due monday..im thinkin a mcdonalds conspiracy..but what conspiracy? Id like it to be believable..could do something bout atvs but...the typical..kid living the dream comes out on top wins the race blah blah..boring


Recently Browsing

0 members

No registered users viewing this page.