Join Today, It's Simple and FREE!

As a member, you can post in our forums, upload your photos and videos, use and contribute to our downloads, create your own member page, add your ATV events, and even start your own ATV club to host your own club forum and gallery.  Registration is fast and you can even login with social network accounts to sync your profiles and content.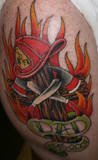 ---
Similar Content

By kfwa

Hello
I have an '86 LT230s.
recently I put a new top end in. Took it out for a test drive after the rebuild and the screw holding the cam chain tensioner was loose and fell out. When I stopped the motor I couldn't start again. Fearing the cam chain jumped the timing I pushed it back, reset the timing by using a screwdriver in the spark plug hole to determine the top end.
Bike still wouldn't start where in the past it would start on the first kick. I was pretty confident I hadn't screwed up the timing so I pulled the spark plug to spray some starting fluid in the chamber and noticed the spark plug wasn't getting any spark.
I tested the ground, the usual suspects. I had a donor bike so I replaced the coil and the CDI. Still nospark.
So here is where is gets interesting.
I take the stator cover off, wipe down the flywheel and coils and I guess what you'd call the magneto because they all had a light layer of oil on them. In order to take the stator cover off of course I had to drain the oil. So after wiping it down, putting the stator cover back on I get a strong spark.
In my haste, I start the motor and let it run for about 20 seconds before I realize I didn't put the oil back in.
I put the oil back in...and you guessed it - now I'm back to having no spark.
I'm trying to figure out if I need to replace something - clearly I can't run it without oil.
any ideas would be welcome.


By CRAZYQuad

Where to ride? Interesting places!
Please post one place where you think would be an awesome atv adventure. The rules are, you must provide some pictures and information on the place of interest. Each place should have it's own post. (You may post more than once). Please provide as much information as you can (pictures, description, links, etc). Once we have 10 interesting places, we'll vote for the best.


Recently Browsing

0 members

No registered users viewing this page.