Join Today, It's Simple and FREE!

As a member, you can post in our forums, upload your photos and videos, use and contribute to our downloads, create your own member page, add your ATV events, and even start your own ATV club to host your own club forum and gallery.  Registration is fast and you can even login with social network accounts to sync your profiles and content.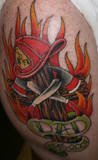 New SCUD came in yesterday
---
Similar Content

By Muskynut

I have about 500 acres behind my house that is state land and have been riding on the property for the last 18 years.
I know pretty much all the cops that patrol it and have always pulled over to talk with them. They have always been really nice guys. Well about 3 months ago while riding one the fire roads there was this new cop pulled over in a Jeep and I pulled up to him to talk and he jumped out with his hand on his gun and told me to get off my quad. After I got my helmet off and he saw I was in my 40's he just told me not to ride by the state run hospital and to be on my way.
Well yesterday I went for a quick ride and as I broke into this one field (nowhere near the hospital) I looked off to my left and saw this Police Jeep coming right at me at a high rate of speed, for a second I was going to just pull over to talk and I saw it was this same cop and there was no way he was going to be able to stop without hitting me so I hit the throttle and made this quick right and than a quick left onto another trail off this field. Well when I turned back to look he was bearing down on me trying to run me down. I than just hit the throttle hard blasted into a small swamp area and flew through the trails. I looked back and he never made it through the swamp.
I made it back home but I had to take a bunch of different trails to get there and I was on High Alert waiting for this nut case cop to come flying out and mow me down.
I called a cop friend of mine when I got home and he told me that this cop was kicked out of another police dept. because he's a few sandwiches short of a picnic and he is just finishing his time at the state run hopital until he retires.
I just hope he retires soon


By BuckBilly

Went riding friday, first time since last fall. The wife, kids, and I had a blast!!!!!!!!!!!!!:yes: My friend put a semi box trailer up for a bridge across the stream to his woods!!!! It's a sweet set up!!!!!!
Enough about me. Anybody else do any riding???


By Guest

Finally got out to ride...haven't ridden since February!
Did about 32 miles.....had a blast!
I like to make *vroom* *vroom* noises:

The gallery:
Ride with Redbeard and the boys
Tom D


Recently Browsing

0 members

No registered users viewing this page.