Do you own an ATV? Join our Forum!

As a member, you can post in our forums, upload your photos and videos, use and contribute to our downloads, create your own member page, add your ATV events, and even start your own ATV club to host your own club forum and gallery.  Registration is fast and you can even login with social network accounts to sync your profiles and content.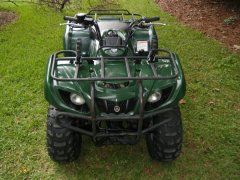 ---
Similar Tagged Content

By Chase Cook

I have a 2001 yamaha warrior YFM350x and started to work on it. The person who I got it from put a new top end kit in it. I already took the top end off and checked, brand new still. Had to clean the valves so it can get better compression. Put it back together and turned it over and and made good compression but also had a loud clanking noise at the bottom, put hand over carb and stopped making the noise when I turned it over. And won't start.  I know it is not the top end. Just cleaned it and valves. Need help trying to figure out what's the problem.. thinking it's the crank rod but don't know. If it is the rod can i just get a new rod for it?(would be great if so). Or does it need a hole bottom end . In need of help.


By countryside

I purchased 2002 500 auto at a sale it runs fine goes forward and back ok but when riding it make a terrible sqwealling noise sound like coming from clutch cover area any suggestions of what I will be looking for or what could cause noise thanks also found that make gear train growl on deceleration also make popping noise in rev any suggestions thanks James I was checking for other issues found that have bad popping in rev I am thinking gear box or sounds like a chain jumping do I trade in or fix thanks


Similar Topics

Recently Browsing

0 members

No registered users viewing this page.