Join Today, It's Simple and FREE!

As a member, you can post in our forums, upload your photos and videos, use and contribute to our downloads, create your own member page, add your ATV events, and even start your own ATV club to host your own club forum and gallery.  Registration is fast and you can even login with social network accounts to sync your profiles and content.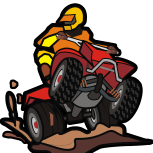 This topic is now closed to further replies.
---
Similar Topics

Similar Tagged Content

By missmcroberts

I just brought my 4-wheeler home from the shop and rode it around my house turned it off and left it for about a week. I got on it yesturday started it and it made a loud eeee sound so I tried again now all it does is clicks, I have a new starter, new bendix, new cylnoid, and new battery, does anyone have any clues what I should check, or know any reason this would keep happening this is the second time.:aargh:


By Ajmboy

What internet browser do you use?
Internet Explorer (What version, 7,8,9)
Firefox (What version)
Google Chrome
Safari
Opera
Other
Just curious...I am using Google Chrome and notice that it is much, much faster.
Added a poll, you can chose more than one.


By Guest

Loved this!
[ame=http://ca.youtube.com/watch?v=4Xs8HWN6UyE&feature=related]YouTube - How To Behave On An Internet Forum[/ame]
-TD


Recently Browsing

0 members

No registered users viewing this page.