Join Today, It's Simple and FREE!

As a member, you can post in our forums, upload your photos and videos, use and contribute to our downloads, create your own member page, add your ATV events, and even start your own ATV club to host your own club forum and gallery.  Registration is fast and you can even login with social network accounts to sync your profiles and content.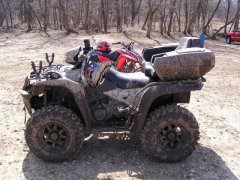 ---
Similar Topics

Similar Tagged Content

By justme_1774

Hey, I am new to the forum things. But if I can help anyone out I will.
i live in Southern Illinois. I grew up in N.E. Ohio. Spent many summers down in Wellsville Ohio riding and playing in the mud in rail buggies.
i like to get dirty but I also just like to ride on my 350 warrior on the country roads to see the animals and get away from the hustle of live. I wish i could find more people to ride with but alot of the people are mostly kids that want to tear up farmers fields or do things they are not suppose to.
i really enjoy taking my wife with me and letting her enjoy the ride with me. She hates to get dirty but she loves to run through the mudd and the puddles.
Hoping one day to get her a four wheeler to ride with me on her own.
The funnest thing that ever happened was when she was riding and I was on the back a bird flew straight across a field a hit her in the head. LOL. Well i am Nick I hope to meet new people on here and not a bunch of spammers.


By southernillinoiatv

Help us out and vote we need to winn this so we can get the rest of state srtarted on this
thanks
POLL: Should the county license ATVs to ride on roads? - Olney, IL - Olney Daily Mail


By rjw040

anyone know some places in southern ILL to ride ???


Recently Browsing

0 members

No registered users viewing this page.