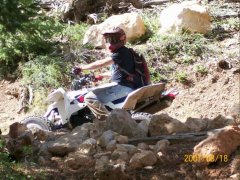 Create an account or sign in to comment
You need to be a member in order to leave a comment
Sign in
Already have an account? Sign in here.
Sign In Now
---
Similar Content

By wylde1

My son Gage checking out the scenery from the top of the mountain..


By BeardedBackWoods

Bought a 01 bear tracker and a trailer from a local guy last week. I rebuilt the carb 2 days ago and ran damn near perfect for 2 hours. Parked it and came back the next day. It suddenly won't hold an idle at all and pops when I'm going downhill or at a slow speed. Almost like I'm dragging the whole power train with the weight of the ATV. It still has decent power (80-90% maybe as it is now) but I can't figure out why it's popping and won't hold an idle suddenly. even with messing with the idle screw next to the bowl on the exterior of the carb. No changes. . ANY ideas would be great. I'm far from a carb king, but I've never had this issue before. The fuel was bought 2 days ago and it has a brand new intake manifold as of yesterday when I rebuilt the carb (whole rebuild kit). I sprayed around the carb and did not find any leaks. 
 
 Thanks y'all. 


By Guest Fox300exchic

This is out near Vegas Valley and Hollywood. People have been riding there for awhile now but they have been building stuff out there and I didnt really know what it was till recently. This is some information that I have found about it so far. The link included is a map of the area and what they plan to do.
Sunrise Trailhead
The trailhead is a vital staging area for motorized and non-motorized trail users near the County Wetlands Park and the Sunrise Management Area. This trailhead also provides linkages to the River Mountains Loop Trail, Rainbow Gardens Trails, and the Flamingo Arroyo Trail. Construction is set to begin in late February and the trailhead should be ready for trail users by late Fall 2006
http://www.co.clark.nv.us/daqem/epd/trails/trails_projects.html


By wylde1

Got a little too GoonStyle and gave my cameraman a real good look at the belly of my Warrior.