Do you own an ATV? Join our Forum!

As a member, you can post in our forums, upload your photos and videos, use and contribute to our downloads, create your own member page, add your ATV events, and even start your own ATV club to host your own club forum and gallery.  Registration is fast and you can even login with social network accounts to sync your profiles and content.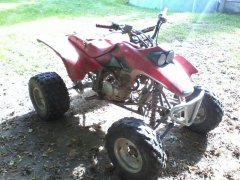 ---
Similar Topics

By Michael Rogers

Anyone ever replaced the shifter shaft on one? Not sure on the year but assuming it is in the late 90's. Is it a huge task, splitting the case etc... thinking about buying it as my next project.
 
Thanks


By Trent Finnessey

So I'm 14 years old right now..... I'm a pretty good rider for my age, I have a 98' 300ex that I'm tryna sell. I'm thinking of a 400ex or should I skip the 400 and just go to a 450r or something along those lines? 


By Susan Makowski-DeGraw

My quad runs,  it starts up runs for about 10 minutes and then it dies if you let it sit for 10 minutes it'll start back up ride for another 10 minutes and then die again, trying to figure out why it keeps stalling
 
 


By jay rear

Hi im new to the site. I have a 99 sportsman 500. I has been sitting for about a year now. I bought a new battery for it the other day and now i dont have any power to anything but the winch. Any help would be great. I already cut the pouch and checked voltage on both sides of the circuit breaker. 


Similar Tagged Content

Recently Browsing

0 members

No registered users viewing this page.