Do you own an ATV? Join our Forum!

As a member, you can post in our forums, upload your photos and videos, use and contribute to our downloads, create your own member page, add your ATV events, and even start your own ATV club to host your own club forum and gallery.  Registration is fast and you can even login with social network accounts to sync your profiles and content.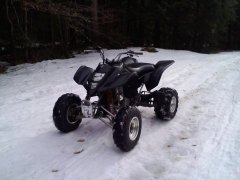 ---
Similar Topics

By Michael Rogers

Ok, another newbie post here. Checking this stuff out in issues with lost compression. Wondering if anyone can tell by the pics and video of the cam is good, and whether you can see anything visibly with the valves and timing gear.
Any input would be a great help. Been researching  youtube videos, but just not sure.
2000 Bayou 220
Valves
I could test the exhaust, it looked like it was opening, closing and seating ok, but not sure about the intake.
Gear

CAM - looks like some wear on the outer ridges on both in spots, and one lobe to me looks kind of weird, but I don't know.

Thanks
 


By Rich1028

Good/Better/Best +1 A-Arms honda 400 X 2008-2014 
 
What are some of the good, better,and the best 1+ a arms out there?
where does Houser Racing Fall?
https://www.houser-racing.com/Honda-400EX-1-Standard-Travel-A-arms-p/030107-01.htm
JD Performance
http://www.jdperformance.net/488_Web_Design/a_arms.html
 
and something found on ebay
https://www.ebay.com/itm/TRX-400EX-400EX-1-A-ARMS-SALE-SILVER-VEIN-LIFETIME-WARRANTY-GNCC/372763670824?hash=item56ca723928:g:qwIAAOSwJkZddV2x


By BuckBilly

Good morning to all !!!!!!!!!!!!!!!!!!!!!!!!!!!!!!!!!!!!!
Let's see if we can make this a daily event.


By Eric Harris

How do you set the timing and adjust the valves on a 2006 sawtooth 


Similar Tagged Content

Recently Browsing

0 members

No registered users viewing this page.