Do you own an ATV? Join our Forum!

As a member, you can post in our forums, upload your photos and videos, use and contribute to our downloads, create your own member page, add your ATV events, and even start your own ATV club to host your own club forum and gallery.  Registration is fast and you can even login with social network accounts to sync your profiles and content.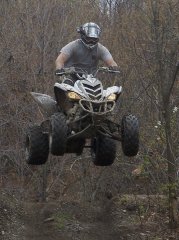 ---
Similar Topics

Similar Tagged Content

By gutthooked

Ok guys, I see repair manuals and vin lookups on here, but no place that I can lookup a part number. Is there such a website?


By Resurgence Small Engine Inc.

Used ATV parts available from Resurgence Small Engine Inc.
All parts have been identified by manufacturer's part number, photographed, and listed on our website.
Our used OEM parts are available for up to 60% off dealership prices. This way you can maintain your machine with well-made OEM parts at a more affordable price!
Compatibility can be confusing, but we've simplified it for you. Browse our current parts inventory by type, make, year, & model or search by OEM part number.
We make the logistics easy with our Free Shipping Promotion on US orders over $100!
Visit our website to view our current inventory:
https://resurgencesmallengine.com/parts/
Parts are located at Resurgence Small Engine Inc. in Wasilla, AK. Free local pick-up is available and our website is configured for domestic US shipping. For international orders, please contact us.
More parts & models to be listed continuously! As of August 2018, parts are available for the following ATV models:
Parts are listed for many models, currently including:
Kawasaki 2003 KFX400 Polaris 2010 Ranger 500 4x4 HO EFI Suzuki Quadrunner 250 LT4WD 250 LTF250 500 LTF500F King Quad 250 LTF4WDX 300 LTF4WDX 450 Quadmaster 500 LTA500F 4x4 Eiger 400 2x4 400 4x4 Ozark 250 LT250 Vinson 500 LTA50F Yamaha Banshee 350 Big Bear 350 Raptor 350 Warrior 350 Wolverine 350 More parts & models will be added continuously!
Resurgence Small Engine Inc.


By Blenderite

Hello guys! New to the forum, and fairly new to ATVs. I've driven them, but never owned one. Now I do own one. Just picked it up today. It's a 1999 Yamaha Big Bear 350. It's been through some stuff. The guy I got it from told me the previous owner removed the front diff because he didn't want to replace the half shaft. So it's 2wd, even though it's supposed to be 4x4. Lovely. I can deal with that for now.
 
More importantly, I need to get it running. The carb needs to be rebuilt. The guy I got it from said he sprayed it all out and it still didn't work. I'm concerned he might have damaged it or not put all the parts back. I was looking at a replacement carb, and the OEM parts is $600. I'd rather not spend $600 if there are any other options. I have seen carbs on Amazon and eBay that are in the $40 - $100 range that say they fit. Anyone have experience with these? I'm going to get a rebuild kit for the current carb just to make sure that won't fix it.
 
Thats the first thing with it. Secondly, it was completely rewired. I need to find a original wiring diagram so I can put it back how it was, with a key and all. Currently it's wired with just a rocker switch. Any sources for a service manual that would include wiring diagrams?
 
Thirdly, is the Big Bear 350 a good atv? I picked it up for $700. It does start and run when you spray starting fluid into the air intake, so I am not concerned about the engine being bad. I plan to use it for the farm, running around and carrying things with it like minerals and feed and such. Not really for mudding and things like that. How good is the 99 350?
 
I am certain I will have more questions as I examine it more, but that's all for now. Thanks in advance for the assistance!
 
-Blenderite


By Guest Fox300exchic

If we had a dollar for every time the question "Which is really faster, the 700 or the 450?" shows up in our inbox, mailbox, or voicemail, we'd be putting this magazine together from a bungalow on a barely inhabited tropical isle named Quadhama.
http://www.quadmagazine.com/quad/features/article/0,24942,1603755,00.html


Recently Browsing

0 members

No registered users viewing this page.