Do you own an ATV? Join our Forum!

As a member, you can post in our forums, upload your photos and videos, use and contribute to our downloads, create your own member page, add your ATV events, and even start your own ATV club to host your own club forum and gallery.  Registration is fast and you can even login with social network accounts to sync your profiles and content.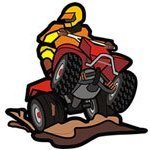 Cable Wars: Synthetic Line vs Steel Cable
---
Similar Topics

By Dwight Williams

Ok, so I bought this scream of a deal the other day - a 94 King Quad 300 for $40.00.  It's been sitting outside with no carburetor on it for about a year.  Its rusty, missing some parts, wiring is all cut up and spliced etc.  No seat, no racks but the plastic is all there minus the headlight housing.  Anyway, who can pass up a $40.00 quad right?  I get it home and looked at the sight glass for oil level, it's about 1/2 oil and 1/2 water.  I drain it, refill it and turn the motor by hand (recoil starter is missing) and it turns over just fine.  I worked on the wiring for about an hour and got it to turn over with the electric starter and got enough of it sorted out to get a spark.  Did a quick compression test, 70 lbs.  Wet test bumped it up to 90.  Ok, so rings and cylinder washed out with water for a year, not too surprised.  I thought 'what the hell' and sprayed some starting fluid in it and it ran for about 2 seconds - enough to show  it's got life.  Since then the compression has gotten worse, I can't get enough pressure to activate the carb diaphragm, therefore no fuel pump either.  The compression is now around 60.
  Anyway, my question is....is it worth it to try to get this thing going?  I tore the top end down today and the cam and one of the rockers is pretty worn.  I figured a top end job would be about $100 or so, depending on the condition of the cylinder but I'll probably have to put a cam and rockers in it as well.  Doing some research on ebay I figure I'll have to spend about $500-$700 to make the whole machine right again.  Much less just to make it run and use as-is but I won't really like it until it's right.  I don't mind doing the work, I actually enjoy it but I'm concerned about what all that water did to the rest of the internals, I can't really test it all out until I can make it run.
I know it's a basket case but I'm not into it much at all, even if I do the top end and find something else wrong I'm still not out much.  I'm leaning toward ordering the top end parts and going from there unless you can convince me otherwise - any way to check the rest of the internals without tearing it down?  I plan on flushing the oil cooler before I do another oil change, I've drained it twice now and it gets milky almost immediately just turning the starter - I suspect the oil cooler is polluted badly.
 
I'll get some pictures today if anyone want to see them.
 
thanks!


By quadcrazy

Do any mods to your atv? Let's hear about it!!!


By 06kfx440

So I was looking at my John Deere today and though, how could I make this cooler. So I tinted the windows. Lol.
 
As I got home I was staring at my Polaris and the wife's kfx. I thought I would have to replace the crank because of piston slap on the Polaris. Turns out I just had to adjust the choke cable a tad more. Runs great.
 
Why do we have insurance if we only need it sometimes, and that's questionable.
 
What is the definition of being an adult? You can ask 6 people and get 6 different answers.
 
 
Sent from my iPhone using Tapatalk


By Thomas Brooks

I know...I feel stupid for asking.  I find it impossible to use the thumb throttle with my thumb when I have the bars turned full right. I have to reach across the top and grab the throttle from the front with my fingers. It isn't very smooth and I can't help but think that there must be a technique, mod or adjustment for this. How do I get past this?
Thomas
2017 Polaris Sportsman 570 X2


Similar Tagged Content

By mmgood

Hey people
Question for all, just picked a 1986 bayou 300 thinking of going synthetic any thoughts ?


By ATVNetwork

It´s one debate that doesn´t seem to be going anywhere fast. If you´re buying a brand new winch like the Superwinch Terra 45 or maybe it is just time to replace your old cable. Which way do you go: steel or synthetic? Let´s take a look at the pros and cons so you can decide once and for all which is better for YOU.
 
Life of the Cable
After an extended period of time depending on use, a steel cable can start to crimp, get rust spots or develop frayed strands of steel cable which can give you nasty cuts and also decrease the reliability of the cable. In the short term, the steel cable can take a lot more abuse than the synthetic variety. However, synthetic cables can have a much longer life. That is of course only if it is taken care of and carefully prevented from fraying on the edges. Fraying edges on a synthetic cable is the beginning of the end for this more costly type of cable. The more affordable steel cables might be more attractive for the rugged wincher who doesn't mind replacing a steel cable at the first signs of wear.

Potential and Kinetic Energy
You don´t need to be a science major to recognize the danger of a cable under extreme tension. Whether it is due to overbearing the cable or a replacement cable is well overdue, it can be a potentially very dangerous situation. In terms of this, Synthetic is generally the winner as it doesn´t become a dangerous projectile. It is also easier on the hands and actually provides more pull per inch. Bear in mind however, that your maximum pulling power is still limited by the winch you select. It´s downside is that if it is in contact with a sharp edge, it has the possibility of slicing or fraying the edges, which is very unlikely with a steel cable.

UltraViolet
Some users of synthetic cable have made complaints about UV damage causing weakness that leads to a decrease in strength. Newer synthetic lines are being manufactured UV resistant, and a winch cover is also a cheap solution to this problem.
 
Company Choice
About 95% of new winches are being shipped by their companies with standard steel winch cables. This can be taken as just because they are the cheaper option of the two for them to make the most profit, or a signal that it is still the best choice of cable.

Power
As I mentioned before, Synthetic does provide you with more pounds per inch. Which means more pulling power for less cable. Even though pulling power is generally determined by the winch, check out this article with tips for both types of cables on how to double your pulling power.

Conclusion:
Synthetic is the latest and more expensive cousin, that still has a few kinks to iron out before it really replaces steel cables completely. Steel has been proven in every condition. It is tried and tested and cheaper. For reliability and cost, definitely your cable of choice.

Author:
Sam is an ATV enthusiast and updates his adventure website with outdoor tips and articles, including a review on the Superwinch Terra 45 (1145220)


Recently Browsing

0 members

No registered users viewing this page.