Join Today, It's Simple and FREE!

As a member, you can post in our forums, upload your photos and videos, use and contribute to our downloads, create your own member page, add your ATV events, and even start your own ATV club to host your own club forum and gallery.  Registration is fast and you can even login with social network accounts to sync your profiles and content.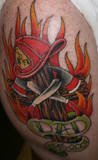 Have you ever wondered what Idiots look like???
---
Similar Forum Topics

This video was submitted to the QUADCRAZY Video section by Ajmboy. Description of Video: 8 Idiots the world can do without. Video Tags: idiots, accident http://www.quadcrazy.com/video/video/&v=118308381873

By quadcrazy, in ATV Picture and Video Sharing

So today started out great. Blue skys, warm air. We loaded the toys up to go play in the mountains. We arrive, everything is unloaded and we ride about 3/4 mile down a dirt road to get to the actual trail. I'm leading with Rhino not far behind when some 15 year old DUMB ASS on a YZ250 comes flying around a blind corner at about 40-50mph coming towards us. Luckily I slowed down for the corner and stayed to the inside when he went flying out of control around the outside. He smacked right into the Rhino peeling the rim off the tire, sliced the tire in 2 spots, ripped the corner of the hood. Ball joint is tweeked, that is what is obvious. I'm taking it to the shop tomorrow. Oh yeah about the schmuck. He flew over the bars and schattered his collar bone on the roll cage. His dad is paying for it. I'll post pics of the damage later.

By Stoopidbot1, in General Talk - Anything Goes!

Similar Tagged Content

By Ajmboy

Someone sent this to me, so I uploaded it at http://www.quadcrazy.com/video/video/&v=118308381873


Recently Browsing

0 members

No registered users viewing this page.