Join Today, It's Simple and FREE!

As a member, you can post in our forums, upload your photos and videos, use and contribute to our downloads, create your own member page, add your ATV events, and even start your own ATV club to host your own club forum and gallery.  Registration is fast and you can even login with social network accounts to sync your profiles and content.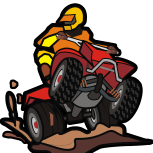 ---
Similar Topics

By Larry Fox

Looking for the wiring diagram of the gauge cluster. Thinking about using it on my 2008 that I just bought.. Its gauge is destroyed


By Larry Fox

Has anyone had any luck putting a different gauge on this machine. Would you happen to have the wiring diagram? 


By davefrombc

View File 1999 Polaris Magnum 500 Wiring Diagram
Wiring diagram for 1999 Polaris 500Magnum
Submitter davefrombc Submitted 09/08/2019 Category Polaris ATV  


By Guest

It seems like a gas problem but I've changec, fuel injector, gas cap. I have lots of fuel pressure but after four wheeler has run for 20-30 min I have no power and sometimes stalls and won't start. Any ideas?


By Brian Simmons

A buddy of mine . had a friend redo his top end . It was running great  . then it like locked up  but then it started again !!! then it seemed like it locked up again ??? Could he have done something wrong  ??? Could it be bad ??? Please let me know what you think it could be ??? Please help !!! i want to know how much it will cost to fix or if he should part it out ???
PLEASE HELP !!!


Similar Tagged Content

By mikeexplorer

Wiring diagram for 2007 Arctic Cat 700 EFI 4x4
 
 


By Admin

2007 Arctic Cat 700 EFI 4x4 Wiring Diagram


By x

It's time to replace the shocks and struts.  Looking for some stiffer springs than the OEM as I use this for farm work and I put heavy loads on the rear and haul small trailers frequently.  I've seen a couple aftermarket offerings that say they're 10% or so heavier duty.  Any other options for something a little stronger / stiffer?  Thanks.


Recently Browsing

0 members

No registered users viewing this page.