Join Today, It's Simple and FREE!

As a member, you can post in our forums, upload your photos and videos, use and contribute to our downloads, create your own member page, add your ATV events, and even start your own ATV club to host your own club forum and gallery.  Registration is fast and you can even login with social network accounts to sync your profiles and content.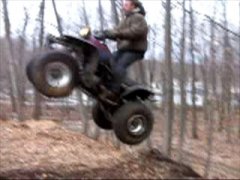 ---
Similar Forum Topics

Similar Tagged Content

By colin james

View File 2012-2014 Polaris Sportsman 400 HD Service Manual
This the factory service manual for the 2012- 2014 sportsman 400 hd service manual 
Submitter colin james Submitted 02/08/2019 Category Polaris ATV  


By colin james

This the factory service manual for the 2012- 2014 sportsman 400 hd service manual 


By Guest

Ok...I'm gettin' me juevos ready to do an oir filter clean....
Went to my local harley/quad dealer and he had me purchase the No-Toil kit (Cleaner, Air Filter Oil, Rim Grease)
What I've read is that the No-Toil cleaner will NOT clean
other oils off air filters....just the No-Toil oil....
So, I've also read that others have cleaned their air filters
in the kitchen sink, used gasoline, or used flash solvent....
Looking for advice as I've mentioned I'm very mechanically
DECLINED!
I'm going to wash the air box seal in the sink and give it a good dry....
One more thing......No-Toil or Bel-Ray for filter oil?
Thanks!
-TD


By gpenberthy

my o4 polaris 4x4 lost power just going down road at 10 miles an hour . Had only been on it for 20 minutes. Engine still ran just no power. Shifted into reverse had little power. Shifted back in forward and it ran for about 5 minutes then no power again. Was afraid to drive it any further so towed it back to cabin while still running..  It had power once again for a few mintues. No smell of anything burning . Several years ago I had to replace belt becasue it did something similiar. Could it be the belt again?
 


By Corbean

I have a 2007 atv 400 after a new battery and solenoid starter all checked out along w fuses .. the atv shows no electric no power... any suggestions? Thanks in advance


Recently Browsing

0 members

No registered users viewing this page.