Do you own an ATV or UTV? Join our Forum!

Join QUADCRAZY ATV Forum today for FREE! We keep these forums clean and user friendly. All first posters will have to wait to have their content reviewed and approved. Once your first post is approved, you will no longer need to got through an approval process. To gain immediate approval and a NO ADS experience, consider subsribing to our Premium Membership.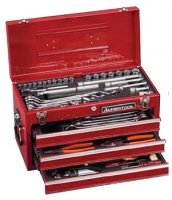 About This Club
This club is for automotive, motorcycle, ATV, or other type of mechanics. You don't have to be employed as a mechanic currently and can be a DIY mechanic, but have to have mechanical knowledge. Ask any mechanical questions, cars, atvs, trucks, or other.
What's new in this club

Howdy, I'm a mechanical engineer that has been working on, breaking, fiddling with, building, and reading about just about anything with mechanical parts. I have done all my own fixing of stuff since I built my first motor scooter in 7th grade. I was born in 1949, same as my 8N Ford tractor. Consequently I have enjoyed the evolution of technology in so many areas. At 74 I am still having fun learning new things, so this forum will be a great source. tom

Hey, I've been wanting to know if any mechanic would like to help me with my Custom quad frames from welding and parts list Let me know by replying to this message. thank you!

Oh ok, and Hi. And I guess being as how you're fixing a quad you must be rural ? Being a country mechanic's a good thing, plenty of variety and great customers..

my dad is a self employed mechanic and i work as an assistant/ i mostly just hold a flashlight /pick up materials/ download service manuals we are working on a Polaris Outlaw 90 currently

Lately, I'm noticing that Partzilla has the best price on OE yamaha parts. I typically find the OEM # and then do a google search and time after time, partzilla comes up. I think they also own boats.net

No trouble, my pleasure.. Tell me, do we get those points on the leader board when someone likes our post do we ? I've been trying to figure out how I got up there.. (I hope that's a covid mask you're wearing, not a highwaymans.)

I just bought some kobalt screw drivers and they seem pretty good

Thanks for helping out! I've read some of your posts, very helpful!

Saw this club and thought I should log in. I'm a mechanic in New Zealand and have been mainly self employed in small rural communities for the last forever. I've worked on everything from heavy machinery and decent sized boat motors to tiny model airplane engines, If there's anything I can help with let me know. The quad forums here are great, particularly so due to the friendly atmosphere and lack of arguing or slagging off.. which seem to be the norm some places.. Good work guys.

I've had good luck with the Kobalt brand. That's my go-to when I need most new stuff... I'm sure most of the Kobalt is china-made as well, but it seems a bit blasphemous that someone bought the Craftsman name and isn't making it in the US.

I just bought a 1/2 drive long chrome extension bar, 1/2 drive and 3/8 drive 15MM impact sockets and 1/2 and 3/8 impact swivels all from lowes, but not all craftsman. Giving their other brand a try also..

Yeah, but the "new" Craftsman is mostly Chineseium... Only Craftsman I really look for now are "USA" stamped pieces in pawn shops.

I've always been a craftsman tool guy because I worked for sears auto for about 10 years. I was in Lowes the other day and they have pretty much everything craftsman now, for some time. They'll even warranty old tools I'm told, like sears did. So I'm happy about that.

Decided to start this club for those of us that are more "mechanics", like to answer mechanical questions in the forum, and may have some other than ATV questions, info, etc., to share. I'm do some work on my cars here and there. I consider myself a B mechanic, worked for 15 years at sears auto and then 5 years in a shop. Went to college through a Toyota program years ago. The last 15 years I've been working in the auto parts industry, sales, operations, and other positions. I try to do all my own work, have a couple of scanners, specialty tools etc. I'm pretty familiar with what's available to most auto repair shops in terms of parts, tools, programs, software etc. Been in the auto industry for some time now. 😉