Join Today, It's Simple and FREE!

As a member, you can post in our forums, upload your photos and videos, use and contribute to our downloads, create your own member page, add your ATV events, and even start your own ATV club to host your own club forum and gallery.  Registration is fast and you can even login with social network accounts to sync your profiles and content.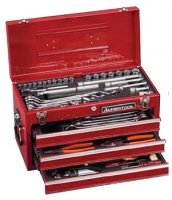 About This Club
This club is for automotive, motorcycle, ATV, or other type of mechanics. You don't have to be employed as a mechanic currently and can be a DIY mechanic, but have to have mechanical knowledge. Ask any mechanical questions, cars, atvs, trucks, or other.
---
What's new in this club

Lance Barrett

joined the club

I've always been a craftsman tool guy because I worked for sears auto for about 10 years. I was in Lowes the other day and they have pretty much everything craftsman now, for some time. They'll even warranty old tools I'm told, like sears did. So I'm happy about that.

mikeexplorer

joined the club

TWiST

joined the club

Decided to start this club for those of us that are more "mechanics", like to answer mechanical questions in the forum, and may have some other than ATV questions, info, etc., to share. I'm do some work on my cars here and there. I consider myself a B mechanic, worked for 15 years at sears auto and then 5 years in a shop. Went to college through a Toyota program years ago. The last 15 years I've been working in the auto parts industry, sales, operations, and other positions. I try to do all my own work, have a couple of scanners, specialty tools etc. I'm pretty familiar with what's available to most auto repair shops in terms of parts, tools, programs, software etc. Been in the auto industry for some time now.