Do you own an ATV? Join our Forum!

As a member, you can post in our forums, upload your photos and videos, use and contribute to our downloads, create your own member page, add your ATV events, and even start your own ATV club to host your own club forum and gallery.  Registration is fast and you can even login with social network accounts to sync your profiles and content.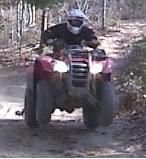 ---
Similar Topics

By Erik Plug

Hi all,
 
Picked up my first Brute Force yesterday. What should have been an awesome afternoon of riding turn a bit into a deception. As I was unable to really take it out for a test drive at the shop, I decided to buy it and agreed that I would take the test drive at home. 
When giving full throttle I noticed that the Brute was choking and lost all of its powers. Faulty fuel pump most likely. 
Called the shop and the are coming to pick it up and repair it and bring it back. Good service. Nevertheless feels a bit sour in the mouth as I was told it was a 100% good. 
Need to have some patience I now before I can really start riding. 
Cheers,
Erik


By colt

Here is what I have collected over the years and maybe it will help someone else.
There are so many and several are too large to upload as attachments, so see any thing you need just shoot me a PM and your email and I will get them on the way to you as fast as I can.
Thanks
50cc to150cc Service Manual For Tank Motorsports.pdf
linhai-atv-service-manuals-linhai-300-parts-manual.pdf
1986 CH250 ELITE SERVICE MANUAL.pdf
Charging and ignition systems for atvs.pdf
Chinese ATV Frame Diagram.jpg
Chinese ATV Repair Shop Manual - Clutch Diagram - Exploded Views.jpg
Chinese ATV Repair Shop Manual - Cylinder Head Diagrams.jpg
Chinese ATV Repair Shop Manual - Torque Specifications.jpg
Chinese ATV Repair Shop Manual - Valve Clearances.jpg
Dinli-501-PARTS-DINONP.pdf
Dinli-601-Parts2003BEAST-DIAMONDBACKNP.pdf
Dinli-DL-5015erviceManual.pdf
Dinli-DL-502PartsManual.pdf
Dinli-DL-5025erviceManual.pdf
Dinli-DL-503PartsManual.pdf
Dinli-DL-601,DL-603ServiceManual.pdf
Dinli-DL-603PartsManual.pdf
Dinli-DL-604PartsManual.pdf
Dinli-DL-701PartsManual.pdf
Dinli-ServiceManual-150ccATV.pdf
DTE150-2-150cc.pdf
Eagle ATV Fender Body Parts Exploded Diagram.jpg
Eagle ATV Rear Axle - Exploded Diagram.jpg
GY6_150cc_ENGINE_PARTS_157QMJ_.jpg
GY6_Top_End_Rebuild.pdf
Leopard-parts.pdf
Linhai_260servicemanual.pdf
Odes-400-Repair.pdf
Piston Ring Installation 4 Stroke Engines.jpg
Roketa-ATV-10(ATV-DO43)-Repair.pdf
Roketa-ATV-11(ATV-D037)-Repair.pdf
SLA-120-PARTS.pdf
SLGK-110-PARTS.pdf
SLGK-150R-PARTSMANUAL.pdf
SLGK-400R-PARTS.pdf
SLU-500-600-700-PARTS.pdf
slu700db-700UTV-Service-Manual.pdf
tao-tao-atv-parts-cylinder-rebuild-kit-for 90cc-100cc-110cc-engines-p-13331.pdf
Trouble Shooter Guide for BATTERY DRAINED Chinese Engines.txt
Trouble Shooter Guide for NO-COMPRESSION.txt
Trouble Shooting No Crank.txt
Troubleshooting.pdf
YX125CC BREAKDOWN.pdf
_________________________________________________________________________________





50 to 150cc GY6 Shop Manual.pdf
Arrow 150 Engine Service Manual.pdf
Eton Shop Manual YXT-150.pdf
GY6 Shop Manual.pdf
Yerf Dog Spiderbox GX150 Service Manual.pdf


By Dee Morris

I bought my big bear in 2009, never had a bit of problem with it until last year. It quit starting but still would click when I tried to start it. I replaced the solenoid, the cdi module ( it was burned on one corner) and this year replaced the battery. I have all lights but still will not start and I do not have the clicking when I try to start it. Can anyone give me any ideas what to try next? I haven't had any luck finding videos about the 2008 Big Bear. I'm trying to avoid the expense of sending it to the shop. 


By Rich1028

2008 Honda 400 Ex and a 2014 Honda 400 X
We Just Picked up two Quads Friday,and we took them out riding,great machines!
 



Similar Tagged Content

Recently Browsing

0 members

No registered users viewing this page.