Do you own an ATV? Join our Forum!

As a member, you can post in our forums, upload your photos and videos, use and contribute to our downloads, create your own member page, add your ATV events, and even start your own ATV club to host your own club forum and gallery.  Registration is fast and you can even login with social network accounts to sync your profiles and content.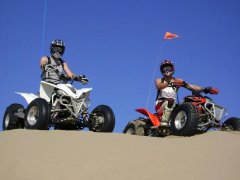 ---
Similar Topics

By David Miller

Does anyone know how to access the check engine codes on a 2018 450 sportsman. Just changed battery and spark plug . It runs fine but the light is on and I need this to plow snow and need it reliable. Any ideas . Thanks


By bradley nelson

Im cool with the police in my area so i can ride on public roads.


By Sombeech

I shot this footage last weekend. We ran a Honda Foreman along the beach and had a great time wakeboarding.
Helmetcam footage.
There is also a download link for the YouTube Challenged employees at work.


By crochet homemade

I have bought a 1996 suzuki king quad 300 and I have noticed that it smokes but I have put oil in it and plenty of gas had to fix shifter bc the nuts and bolts came out somewhere. I have had to replace the wire for the starter but now when I try to start it it wont idle at all and when it does run it smokes really bad like a whitish blue I guess, and it likes to stall a lot. So anybody can help me out please and thank you

10000000_310855426253462_714534016610467840_n.mp4

Similar Tagged Content

Recently Browsing

0 members

No registered users viewing this page.