Do you own an ATV or UTV? Join our Forum!

Join QUADCRAZY ATV Forum today for FREE! We keep these forums clean and user friendly. All first posters will have to wait to have their content reviewed and approved. Once your first post is approved, you will no longer need to got through an approval process. To gain immediate approval and a NO ADS experience, consider subsribing to our Premium Membership.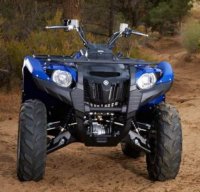 About This Club
If you own a Yamaha Grizzly, come join our group!
What's new in this club

All manuals are located under downloads: https://www.quadcrazy.com/files/ Check this one out for the 600

I work on my own vehicles and figured my quad is not too far of a stretch from a car or truck. I need to find a repair manual for my quad like the ones they publish for cars & trucks. Currently, I have the service manual supplements but they are vague descriptions of the order to follow accompanied by small diagrams of each topic. .

I just posted this in the main forum...my seat has cracked up.

For anyone looking for Yamaha Grizzly service manuals, please check the downloads section: Yamaha Grizzly Service & Repair Manuals

Here are my 2004 Yamaha Grizzly photo albums if anyone is interested in checking out. 😎

The 2019 Grizzly SE (Special Edition) looks great, especially with the styling and special edition rims and tires. Special Edition color and graphics, all‑new Maxxis 'Zilla tires, 14" cast aluminum wheels and superior overall rec utility performance help the new Grizzly EPS SE conquer even the toughest terrain. New 700-Class Engine For 2019, Yamaha's engineers wanted to boost the performance of the big bore Grizzly EPS SE even further, with more useable power throughout the rev range. At the same time, the new motor features redesigned engine mounts, so despite the increase in performance, it runs even smoother than before. New Special Edition Model The new 2019 Grizzly EPS SE takes trail performance to the next level with stylish alloy rims mounting oversize 27-inch tires. Tackle mud, slippery hills and rocky slopes with confidence. Big Bore Engine Designed For Aggressive Trail Riding Rebuilt for 2019, the Grizzly® EPS SE brings even more riding excitement without losing an ounce of comfort, thanks to its new 700-class engine with improved midrange power and smooth-running motor mounts. High-Performance Ultramatic® Transmission Yamaha's class-leading transmission combines immediate response with advanced features like natural, all-wheel engine braking for control on confidence. And, of course, the Ultramatic is proven to be the most durable ATV transmission on the market. Trail-Ready Chassis With plenty of ground clearance and adjustable suspension, the Grizzly EPS SE tackles rough terrain with ease. Beyond the long-travel shocks, wide-arc A-arms and full-body skid plates ensure the Grizzly EPS SE is ready to keep going when you are. Yamaha's Exclusive On-Command® 4WD Unlike so many 4WD ATVs systems on the market that put a computer in charge, the Yamaha On-Command system keeps the rider in charge, with selectable 2WD, 4WD limited-slip, and 4WD with diff. lock modes to ensure the Grizzly EPS SE delivers power consistently as required. Class-Leading Power Steering Reduced fatigue, excellent control and trail feel all come standard with Grizzly's best in industry speed-sensitive Electric Power Steering (EPS). High-Performance Ultramatic® Transmission Grizzly EPS SE's Ultramatic® transmission features a gated shifter, dual-range (Hi/Lo) drive plus reverse gear, and is the most advanced—and durable—CVT drive system available. An automatic centrifugal clutch maintains constant belt tension for reduced belt wear and a sprag clutch delivers natural all-wheel engine braking. New Engine Built to Excite For the trail rider looking for excitement in every ride, the ideal engine should balance big bore power with a strong midrange that gives immediate response. The Grizzly EPS SE features a potent new 700-class engine for 2019 with optimized torque, power delivery and engine character for aggressive recreational riding. Yamaha's Exclusive On-Command 4WD The three-position On-Command® 4WD system lets you switch between 2WD, limited-slip 4WD and a fully locked differential 4WD all with the simple push of a button. An override button allows engine to reach maximum rpm in full diff lock mode, and a straight driveshaft layout eliminates U-joints for reduced friction, noise, vibration, and maintenance. High-Mounted Air Intake Tackle mud and water thanks to the Grizzly EPS SE's high-mounted air intake layout. The design increases power and torque while providing additional room for on-board storage and easy, tool-less servicing of the foam air filter. Stainless Steel Exhaust To maintain clean-running performance for years, the Grizzly EPS SE uses a stainless steel exhaust system and features a screen-type spark arrestor for great power with minimum noise output. High-Capacity Radiator Slow-speed technical riding can place a lot of thermal demands on a liquid-cooled motor, so the Grizzly features a high-capacity radiator with fan assist that delivers plenty of air flow for maximum cooling efficiency—and it's positioned high in the frame for optimal protection. Drive System Air Intake Specially designed, high-mounted drive system air intake helps reduce drive system temperatures and assists in keeping water and debris from entering the drive case. New 27-inch SE Tire Package For deep mud, scree slopes and any other poor traction terrain out there, the Grizzle EPS SE comes ready to climb with big 27-inch Maxxis® Zilla® tires mounted on strong and lightweight alloy rims. The new Zilla® tires use dual-compound sidewalls and an extra-tough carcass construction to handle anything you can throw at them. Four-Wheel Hydraulic Disc Brakes Powerful and consistent braking comes standard on every Grizzly EPS SE thanks to four-wheel hydraulic disc brakes with unmatched braking feel. Generous Ground Clearance To handle nearly any terrain with ease, the Grizzly EPS SE offers an impressive 11.3 inches of maximum ground clearance and full-length composite skid plates, for maximum underbelly protection.