Join Today, It's Simple and FREE!

As a member, you can post in our forums, upload your photos and videos, use and contribute to our downloads, create your own member page, add your ATV events, and even start your own ATV club to host your own club forum and gallery.  Registration is fast and you can even login with social network accounts to sync your profiles and content.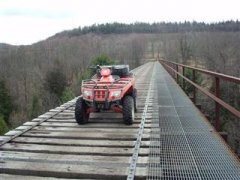 Going to be a hot one this weekend
---
Similar Topics

By Frank Angerano

Hello everyone, back from a crazy few months of riding, hunting and fishing! So I've added a storage bag to one of my bikes and loaded it up pretty good before we went out into the woods/trails etc.  My son questioned me and said what do we need all that junk for?  I told him you never know  maybe a flat tire water etc.
Needless to say that junk came in handy.   So my question to everyone that hits the trails is what do you have or recommend to maybe take with you before you go? And what would be the one most important thing that's a must have? 
And also any recommendations on a  storage bag that's not so costly and performs the best? I like my bag but not very good .
 
 


By Romain Catinaud

Salut! J'ai acheté un quad 450 wolverine de 2006 mais je ne trouve pas le circuit coupé au guidon n'existe pas sur 2006? Merci les gars


By Curtiosity

I live in Utah so sometimes we get a fair amount of snow.  Is the cost of a snow blade/plow worth it, or is it a pain do to on an ATV?  What brands/kinds work best?


By Jordan Ritzman

Any expert trail riders out there near lewis or pacific county 


By Guest DunePrincess

Hi Y'all.. I'm new to the site. I added a few of our favorite riding spots. I'll keep adding more..
Just wanted to introduce myself. I would love to meet more Washington riders- and more female riders!. So stop by and say Hi!



Recently Browsing

0 members

No registered users viewing this page.