Join Today, It's Simple and FREE!

As a member, you can post in our forums, upload your photos and videos, use and contribute to our downloads, create your own member page, add your ATV events, and even start your own ATV club to host your own club forum and gallery.  Registration is fast and you can even login with social network accounts to sync your profiles and content.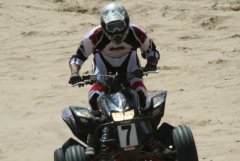 ---
Similar Forum Topics

By Scubasonic

I live in Vancouver Washington but don't have many riding options so I head to Bend Oregon there is a ATV park called East Fort Rock that offers 315 Miles of trails.  I have flexibility to ride during the week (which I prefer) rather then weekends if anyone wants to ride let me know I can be reached at

[email protected]

it is about a 3hr drive but I don't mind making it as long as the Government Camp pass is not snowing or iced in.

By Guest Fox300exchic

Here's mine...




By quadcrazy

The QUADCRAZY MOST COMMENTS Contest is back! We had such success running this contest in 2012, with the help of our contest sponsors below, we're able to do it again in 2013! Now from June through August, the top member with the most comments/posts each month, will win the Grand Prize of one of every prize below! (Prizes can be added by sponsors anytime) You must have at least 30 comments for that month, to win. Please click on the sponsors below for more info on the prizes.
One winner each month with the most comments will get:
QUADBOSS 20 ft Recovery Rope by Bubba Rope
HMF Pipe 50% off Gift Certificate
$25 Chaparral Motorsports Gift Card
$25 Rocky Mountain ATV MC Gift Card
GearUp2Go $25 Gift Card
$25 Motorcycle Superstore Gift Card
4 Wheel Parts $25 Gift Card
We are counting comments for the following areas only:
1. Member Profile Page Comments/Guestbook Sections
2. Picture Comments under our Picture Section
3. Video Comments under our Video Section
4. Blog Comments under our Blog Section
5. Forum Posts in our Forum Section
6. Music Comments in our Music Section
Now that's a nice prize pack! Please visit the contest page for more info and tracking. Have fun and start socializing!!!


By powermaddd400ex

ok i have like 60 comments on my profile and they are making my profile REALLY wide. which I(and many others) find very annoying. is there a quicker way to delete the comments than jus one by one?
thanks,
Chris


By hangingon

we hear the claims of tires and whats good for trail riding, mud,moto x, sand, etc. I want to know what tire is good for trails covered in leaves those suckers are slicker than mud I think. I would hit the throttle and then the fish tailing would start it was fun until you trying to stop and you slide while headed for a tree.


Similar Tagged Content

Recently Browsing

0 members

No registered users viewing this page.