Do you own an ATV? Join our Forum!

As a member, you can post in our forums, upload your photos and videos, use and contribute to our downloads, create your own member page, add your ATV events, and even start your own ATV club to host your own club forum and gallery.  Registration is fast and you can even login with social network accounts to sync your profiles and content.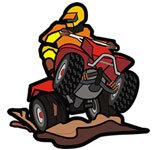 ---
Similar Topics

By Ajmboy

OK, so I'm a boxing fan...anyone watch last night's fight between Manny Pacquiao & Ricky Hatton?

The PacMan is just too fast and too accurate. Floyd Mayweather just announced yesterday that he's coming out of retirement to fight Marquez in July. Maybe we'll get a December fight between Pretty Boy and the PacMan?
So, Manny has convincingly beaten up DeLaHoya (just announced his retirement from boxing) and now Hatton...


By bradleyheathhays

This may sound like a stupid question, as I'm prone to ask sometimes. But...I drive a '96 Cherokee with the inline 4.0 non-interference engine and it doesn't like driving in the heat so much. Since I'm a car down right now I'm driving it a LOT more than I used to. After a lot of driving in this hot weather it starts slower, but still starts and runs ok.

So to help it out I've been raising the hood and putting 2 box fans right on top of the engine to help it cool. I hadn't thought about it but my Mom asked if cooling it down too quickly could be bad for the engine. And since I don't know I thought I'd ask here.

Any harm in using my method to cool an engine down much more quickly than normal?


By LMI

I wanted to share an experience and a fix.
Headed out was following a pole line, was looking for a cross track that may take me to this speckle trout looking spot on a creek.  All paths and semi paths... failed.  Second objective was to reach a speckle trout lake that has been recently stocked... followed 1 trail to dead end, followed second trail to dead end.... while investigating options on foot and the quad idling it died.
 
It wouldn't start.  eventually it did... and when it did … it was essentially a pinned idle.  activating the throttle did seem to speed it up but it wouldn't knock out of the racing idle.  couldn't put it in gear at that idle speed.  got towed out.
when I first got the quad, I ran it off a trail and buried it pretty good in the soft snow... eventually winched out.  It wouldn't start.  eventually did and it was fast idling.  not as fast as this last time. but still fast.  it eventually seemed to settle and I got it in gear and by the time I was back to the truck was acting ok.  chalked it up to the bike being at a bad angle in the snow.
My investigation last year lead to the throttle position sensor TPS.  how to jumper the diag block to see the sensor position on the display,.  I focused on this nearly sure it was a detuned sensor or broken sensor again this time.
 
I tore down the front plastic and stuck my head into the TPS area to see what I could see.  What I found was that the throttle body assembly had actually come out of the mounting area (not sure what it is called).  the ring clamp was loose I could move it easily.  Hopeful, I tore down the air intake assembly above it (air filter...etc) removed a sensor clip and a hose.
I backed off the clamp some more and was able to reseat the throttle body assembly.  put some blue lock tite on the clamp screw.  When I was cleaning off the air intake assembly to ensure I dropped nothing down the intake, I noticed the underside of the air intake "box" also had a clamp.  this screw was completely missing.
I went to the hardware store, bought a metric replacement (brought clamp with me), seated the assembly, settled the clamp blue lock tite that as well... 
 
quad fired right up, idled normal, idled up without hesitation and dropped right back off.  Cost of solution $3.87 CND for a pack of 5 metric screws.  moral of my story was don't assume an idle issue is a throttle position sensor problem... there are a number of other factors including air pressure, which I believe was my issue.
 
 
 


By Anthony Biggers

I am 15 years old and weigh around 130 and want to get into some quad racing (gncc) what kind of quad should I get? I have experience riding so I'm not brand new to the sport 


Similar Tagged Content

Recently Browsing

0 members

No registered users viewing this page.