Join Today, It's Simple and FREE!

As a member, you can post in our forums, upload your photos and videos, use and contribute to our downloads, create your own member page, add your ATV events, and even start your own ATV club to host your own club forum and gallery.  Registration is fast and you can even login with social network accounts to sync your profiles and content.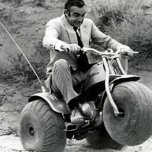 ---
Similar Topics

By Tahj

I bought a 2003 Recon from a kid that beat it – all plastics cracked etc, When I replaced the rear brake the inside – axle, rear oil  - were clean and in good shape, so I think Honda won the kid vs quad battle.
It shifts a little clunky (I made the adjustment) and after riding for a while I get a hot friction material smell I wonder if he used the wrong oil and if any damage was done.


By StolenATV

1987 Suzuki LT 80 and 2007 Honda CRF 50 dirt bike stolen out of my driveway on July 4th. Anyone with info that recovers them will get $400 no questions asked.
Thanks
The post Suzuki LT 80 Quad And Honda Dirt Bike appeared first on STOLEN 911.
View the full article


By oxidized_black

1995 - 2000 Honda TRX300 Service Manual
View File 5851d86071202_1995-2000HondaTRX300ServiceManual.pdf
Submitter oxidized_black Submitted 12/15/2016 Category Honda ATV  


By StolenATV

My husband and I work hard for what we have. We had our new 2016 ATV in a storage unit, as we are currently living in an apartment. Our unit was broken into, along with 94 additional units. However our 4 wheeler was the only item stolen from the entire storage facility!!! Along with this, I am an expecting mother and this is definitely a financial burden we do not need. A police report was filed, but of course there are no leads and nothing seems to be in "the works" to find our vehicle.
Please help us!!
The post STOLEN 2016 Honda Rancher 420 appeared first on Stolen 911.
View the full article


By Guest

It seems like a gas problem but I've changec, fuel injector, gas cap. I have lots of fuel pressure but after four wheeler has run for 20-30 min I have no power and sometimes stalls and won't start. Any ideas?


Recently Browsing

0 members

No registered users viewing this page.