Do you own an ATV? Join our Forum!

As a member, you can post in our forums, upload your photos and videos, use and contribute to our downloads, create your own member page, add your ATV events, and even start your own ATV club to host your own club forum and gallery.  Registration is fast and you can even login with social network accounts to sync your profiles and content.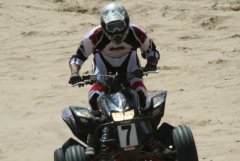 Helmet Cam footage, last race
---
Similar Topics

By Asen_77

Hi All,
Want to show you one automotive show that I filmed in my town called Crazy Race. This was two day race in Qualifications round, Semifinals and Final. In this 4 parts I am showing best moments from all rounds and entertainment of the show.
Crazy Race Part 2 contains a qualifying round where all riders race against each other, selected by lot and split by two. They are free to drive in any direction and to hit their opponent's car everywhere except at the driver's door. Anyone who intentionally hit the other car in the driver's door is disqualified. Winner of each race continue in the semifinal round. In this part I will present the best moments of the qualifying round! 
 
Part 3 shows you the best moments from Day 2 - Semifinals and Final. Battles in the semifinals are among the winners of the first day races, but this time they are selected by lot and divided into 4 battles of 4-5 cars each. The rules in each battle are that they only have to drive in one direction and try to neutralize other opponents until there are only two players left. Then the battle between the two last drivers has the rule to drive in any direction until only one who has qualified for the final round is left. Again, anyone who intentionally hit the other car in the driver's door is disqualified.
For the final round there were only two cars left, because the other two players who got the right to be there had problems with their car and could not participate.
 
Part 4 containing entertainments between battles and winners rewarding.
This event will have second round in 05-06 October 2019 and also will be filmed  For this new round I will filmed in many new angels and places. Will prepare a lot more videos and many new entertainments . This 4 videos was my first try so many things to wish for better filming in the future one.
Hope you will like them and of course feel free to comment and to ask everything. Hope you will Subscribe to my channel and to be first to see my other content and of course new round of Crazy Race! Thanks!


By wheeler0801

what's the reason you're on here...do you race, just ride? race and ride?
me....I'm a racer chick. Last summer I started motocross/supercross and actually won the championship in the women's class......this year I'm going to start harescrambles
I'm stoked:yes::biggrin:and I LOVE to beat the boys:laugh:


By Ajmboy

View File 1987-1992 Suzuki LT250R Race Porting Instructions
1987-1992 Suzuki LT250R Race Porting Instructions
Submitter Ajmboy Submitted 01/28/2019 Category Suzuki ATV  


By Brantley40

Any racers looking to sell take off's?


Similar Tagged Content

Recently Browsing

0 members

No registered users viewing this page.