Join Today, It's Simple and FREE!

As a member, you can post in our forums, upload your photos and videos, use and contribute to our downloads, create your own member page, add your ATV events, and even start your own ATV club to host your own club forum and gallery.  Registration is fast and you can even login with social network accounts to sync your profiles and content.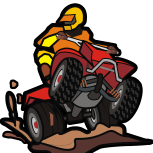 ---
Similar Forum Topics

Similar Tagged Content

By Gunny

Took a ride to see how much snow we had up where I like to go track'in, but because of a drift about half way to where I wanted to go, I had to turn around & ride some lower elevations. Had a GREAT DAY as always !! :partyc:
[ame=http://www.youtube.com/watch?v=uPHDwzv8IFM]26 Nov 2013 Look'in For Snow - YouTube[/ame]
...


By Admin

Please welcome our new forum moderators. These members have volunteered to step up and join our moderating team, to ensure our forums are well organized, moving, and free from nonsence.
They join our veteran team of: Stoopidbot1, DirtDemon, and AJMBOY.
Our new mods are:
BioWare
GEARHEAD01
Raptor8
rocky_mtn_honda
swampcat07
We look forward to a fun 2011 and are confident that these new mods in addition to our existing team, will continue to make QUADCRAZY a premier online community for atv riders!


Recently Browsing

0 members

No registered users viewing this page.