Join Today, It's Simple and FREE!

As a member, you can post in our forums, upload your photos and videos, use and contribute to our downloads, create your own member page, add your ATV events, and even start your own ATV club to host your own club forum and gallery.  Registration is fast and you can even login with social network accounts to sync your profiles and content.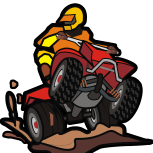 ---
Similar Forum Topics

Do the small 50cc's have a way to set the speed. Im wanting to get one for my kid and i need to set it to go slow. I know the chinese knock off fourwheelers do but i dont really want one of those

By afa913, in General ATV Discussion

Here is the Polaris online parts catalog, looks like you need to register with then first. I haven't used it since I'm not a Polaris owner and don't need any parts right now... http://parts.polarisind.com/Browse/Browse.asp

By Ajmboy, in Polaris ATV Forum

Hello gang, In the past I have always used the website Motoverse.com to decode VIN numbers for my ATVs. Recently I attempted using the websites VIN decoder link and for months it's been out of order. Does anyone know of another website that decodes VIN numbers for free? My friend just bought a used Yamaha Big Bear and he wants to run the VIN. Verify if it's stolen and confirm the exact model quad. I managed to verify my Polaris VIN on the PurePolaris.com website. Any one know of another VIN decoder besides Motoverse.com to look up Yamaha ATV? Thanks guys.

By MadMan, in General ATV Discussion

My 20005 Prarie 700 won't go over 27-31 mph and actually loses power when you give it all the throttle it has, anyone have any ideas or ever had this problem before?

By Beckbrenden , in Kawasaki ATV Forum

Similar Tagged Content

Recently Browsing

0 members

No registered users viewing this page.