Join Today, It's Simple and FREE!

As a member, you can post in our forums, upload your photos and videos, use and contribute to our downloads, create your own member page, add your ATV events, and even start your own ATV club to host your own club forum and gallery.  Registration is fast and you can even login with social network accounts to sync your profiles and content.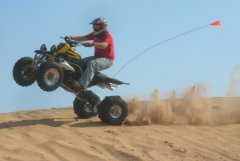 ---
Similar Topics

By Scott Sirr

I need to figure out how to clean/fix or replace my neutral switch assembly On my 2008 Yamaha big bear 400 as generally the neutral light doesn't come on when it is in neutral. To get it to come on I have to wiggle the foot shifter and hold it in just the right spot.
I have googled it and can't find much on the 400's. I can't find a service manual online and the parts manual is super vague.
I think it is in the right side engine cover area, but not certain. 
 Any help would be great. thanks
Scott


By marek porowski

It's kind of ATV related question as I need new trailer tires to tow my 4 wheeler. 
Does anybody have any experience with loadstar 12" trailer tires ? 
There is not to many choices for trailer tires here in Ontario and I was wandering if somebody can recommend me something. 


By StolenATV

Trailer loaded with four wheelers attached to truck in front of our house, . They pulled receiver out spun it around and left.. Came home no trailer or 4 wheelers.
The post 2 ATVs and trailer stolen appeared first on STOLEN 911.
View the full article


By YamahaGrizzly

So my Yamaha grizzly 700 wasn't going into reverse for some reason but Jon and George figured it out on what to do to fix that problem for me. Jon Talks about how he was able to fix that problem my Yamaha Grizzly was having with the reverse.
On a side note we are so close to 1k subs! hell ya!


By Guest foscoe944

Hi, I'm new to the forum. I have a large trailer, about 7500 lbs loaded, that I need to move around in my driveway. I was planning to buy a motorized trailer dolly, but it occurred to me that perhaps and ATV could do it, and then I could not only move the trailer but also have the ATV for the fun of it!
I'm wondering if anyone knows if an ATV can move a trailer this size? The tongue weight is about 750 lbs, and I'd only be moving it very slowly in a small space on almost level concrete and gravel.


Similar Tagged Content

By Guest CycleTrendz

I'm selling my 2005 Forest River Work and Play 26DB Toy Hauler. Best I can do is $14,800 which is way less than I owe. My loss, your gain. I will pay off remainder of loan before I take money so title can be sent immediately upon release!

Please contact me if you have any questions.

[email protected]

Thanks

Recently Browsing

0 members

No registered users viewing this page.