Do you own an ATV? Join our Forum!

As a member, you can post in our forums, upload your photos and videos, use and contribute to our downloads, create your own member page, add your ATV events, and even start your own ATV club to host your own club forum and gallery.  Registration is fast and you can even login with social network accounts to sync your profiles and content.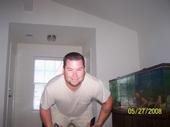 ---
Similar Topics

By swensy7

Hey all new to the forum.... We ended up picking up a 2006 Suzuki z50 quad sport and took it camping this weekend. The guy said had a new top end and just put on a new belt. Seem to work fine for a little bit and then it lost power at the rear wheels. Belt was not in bad shape took a look but it just did not seem to have enough power to get my little guy moving. I pick up the rear end tires would go. Set it down lacked all power.   Any help would be greatly appreciated it did run like a top also.      To add to the bad news on the way home I ended up losing the seat so if anybody has one even if it's in rough shape would love to get it or if you have any ideas open to suggestions......


By tatjeff

can anyone help me figure out year and on my grizzly i have no clue rode many of them very first ever owned 



By dirtjunkie85

Just wanted everyones opinon on riding glove I do long desert races and none of the glove i have wore seem to hold up really good they always wear fast and dont do much to prevent blisters any advice thanks.


By IAShooters

I have a 2006 Bombardier Outlander 400  that I purchased new.  I use the Outlander for hunting and working around the acreage. Muffler has worn out with holes in it and I am looking for a replacement.  From what I can find, factory mufflers are no longer available.  Are there any after market mufflers that can be found that fit without having to hire an expert welder to get creative?   Not looking for high performance, just a good quiet muffler. thanks

Similar Tagged Content

Recently Browsing

0 members

No registered users viewing this page.