Do you own an ATV? Join our Forum!

As a member, you can post in our forums, upload your photos and videos, use and contribute to our downloads, create your own member page, add your ATV events, and even start your own ATV club to host your own club forum and gallery.  Registration is fast and you can even login with social network accounts to sync your profiles and content.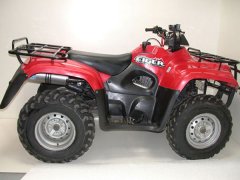 ---
Similar Topics

By Admin

Every so often, we here at QUADCRAZY, come across members who have done something creative with their profile pages. When this happens, we like to "FEATURE" these members to our community. Featured members can be viewed at http://www.quadcrazy.com/public/browse/mode_featured/ (no longer a feature)
Check out https://www.quadcrazy.com/topmembers/ 
In addition, "Featured Members" are shown on the front page of this site!
Take a look at their creative profile pages. If you would like to have your page featured, please post here to have us take a look.
:ola:


By Ajmboy

QUADCRAZY has been around over 10 years now and there a lot of members that have come and gone. We had a PM message going so I decided to start a topic. If I miss anyone, please post. Anyone can post, even if you are not an old member, but please keep to the theme of updating us on what you are doing now, what's new, where you are hanging these days, etc.
Some of the old timers: @SunLrider @CK1999_400ex @trailblazer_02 @hangingon @pete59edsel @fox300exchic @powermaddd400ex @Raptor8 @GREENIE @NEWACRIDER @atvredefined @lawny @jigolbeep @cheriah @Mudflap64 @pony @Lildaisygrl18 @Tagels @mikeexplorer @Lildaisygrl18 @Jonny450R @yokochrist @DeadAim @Bimmerdog @CRAZYKIWI @KnightHawk @Senator @mellowyellow @DJLime @Desert-Hawk @davefrombc @jeeptuff @kidatvs @kfx450r @hvy_chevy_one @Roody  @rappy97 @Gunny @ALLYRATT @PolarisRich  @Tim-ANC @jerod400ex @MIKEL5469 @swampcat07 @DirtDemon @quadmaniac @WillyPoP @marioweldinginc @BioWare @Sc0tt @wylde1 @nueymansiyami @oxidized_black @mywifeknowseverythin @BuckBilly @Ajmboy @Stoopidbot1 @DrtyGrlKristin @outlander560 @01 RAPPY 660 @joet82 @wheeler0801 @Sparrows @quadnut20
Sorry if I missed anyone. Looking forward to hearing how everyone is doing. 😎


By Djiiff

Hello a new 42 year old kid in the quad world. I just bought a Kawasaki lakota 300 with some problems that I will expose in the forum, thank you in advance for the help you will bring me

By Admin

Over the past year, we have made some significant updates to QUADCRAZY and have focused on the forum mostly, since it is the most active part of this community. We've also updated our gallery section so members can easily share photos, added a downloads section for members to share things such as ATV manuals, added a leaderboard and a reputation system. In addition to that, there have been many changes to how members access QUADCRAZY, especially on mobile screens. We've also added login integration with popular social networks such as facebook and twitter. We've made it easier to post, message members, and manage memberships.
QUADCRAZY launched as a much simpler website back in 2014 and 13 years later, we re still at it. In that time, many users have moved on and many new users have joined. The challenge for sites like this is to keep them current and draw members back to contribute and participate when the big social networks take up more of that "online time" these days.
We have some cool new features planned for September that will bring in things like:
Copy and Paste into the editor when typing. Better embedding within posts using just urls (we already auto embed from some sites and our own content). A new recent topics view for the forum. Fluid forum view. New reactions to content to complement the like button. Device management so you manage how you login to QUADCRAZY. ATV Clubs where are members will be able to start their own clubs (public or private) with their own forum. What we would like to know from our members is what to improve, what to add, etc. What do you like and/or dislike? Would you like to see additional website colors/themes, different website layout, maybe wider? Do we need other forum sections, do we need other community sections? Things like this we are interested in hearing about and if its something that can be done to make this place better for everyone, maybe we can do it. 
So please feel free to post in this topic, your feedback of our ATV community. 😁
 
 


Recently Browsing

0 members

No registered users viewing this page.