Join Today, It's Simple and FREE!

As a member, you can post in our forums, upload your photos and videos, use and contribute to our downloads, create your own member page, add your ATV events, and even start your own ATV club to host your own club forum and gallery.  Registration is fast and you can even login with social network accounts to sync your profiles and content.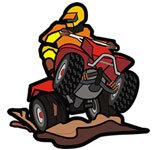 ---
Similar Topics

Similar Tagged Content

By Admin

It has come time that we make some changes around here, things are a bit old and running on old technology. There have been so many advances in coding and platform technology that we are way behind the ball. We need to get up to speed.
We will be upgrading QUADCRAZY to a newer forum driven platform. When that does happen, we will be moving over our members and forum topics/posts only. At this given time, we are not planning on bringing over any videos, pictures, or personal messages. Our forum is the most important and visited section of this community. This will allow everyone to have a fresh start with newer photos and videos to share in the community and build some new content and friends. Our ETA to launch our new site is by October 1st, but that is TBD still. Please save all of your information that is not in the forum.
I wanted to give everyone enough opportunity to digest this and start thinking about any info that they may need that is not in the forum. As we make progress, Ill post some images of our upgrade work and keep everyone posted. More to come!


By quadcrazy

As we close the 2014 year and plan for 2015, we have decided to shut down a few sections here on QUADCRAZY. Effective immediately, we are closing our Blogs, Groups, Events, Polls, Photo Battle, Quiz, and Music sections. These are not widely used by our community and often attract spammers. Any questions and posting should be primarily made in our forum section as we move forward.
In 2015 we will focus on making sure our forum continues to be the primary spot for our members to gather, ask questions, and share their ATV experiences. We are also exploring ways to update our community to newer and more up to date platforms as technology is changing, mobile connectivity is growing, and some of our sections are not as "mobile friendly" as we would like.
It's been about 10 years now for QUADCRAZY, we're looking for another great 10 years to come. Please continue to support us by visiting www.quadcrazy.com and participating in our forums.
Thank you and Happy Holidays from the QUADCRAZY family to yours!


By Ripcity

Looking forward to the new lifestyle. Bought my son a Blaster a couple of weeks ago. He was bored riding by himself so I picked up a 2004 Sportsman 600. Wow!! What a blast. Tore up the backyard yesterday playing cops and robbers. Got a few new paintball welts today. I am sending out a warning to all ATV riders in Wisconsin. We are new. And are we excited!!! Living the good life has no end.


Recently Browsing

0 members

No registered users viewing this page.