Join Today, It's Simple and FREE!

As a member you can post in our forums, upload your photos, use and contribute to downloads, create your own member page and more! Registration is fast and you can even login with social network accounts to sync your profiles and content.
Life Next to the Missouri River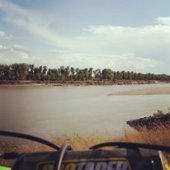 I am a college student who owns a Kawasaki KFX450r and a Kawasaki Bayou 300. Whenever I come home to visit, the first thing I do is take my hat off and shoes off and throw on my helmet, my riding shoes, start my quad, and go for a 3-4 hour ride along the river. She has kept me happy when times seemed gloomy and the scenery never fails to warm the heart.
Copyright
© Tyler Baxter
2